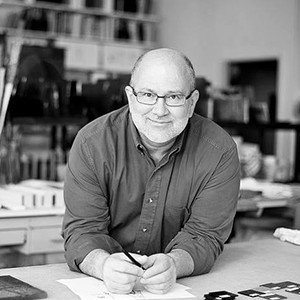 RICHARD PARRISH
Richard Parrish operates a studio for kiln-glass in Bozeman, Montana. He holds a Master of Architecture degree from the Cranbrook Academy of Art in Bloomfield Hills, Michigan and a Bachelor of Architecture degree from the University of Idaho in Moscow, Idaho. His artwork is featured in a solo exhibition at the Rockwell Museum in Corning, New York and in a group exhibition at Glasmuseet Ebeltoft in Denmark, both established in 2016.
Richard has taught architecture and design at The University of Michigan and Montana State University. He teaches classes in kiln-formed glass throughout the world, focusing on the visual elements of design, color theory, inspiration, meaning and intent.
Richard's glasswork includes speculative work; functional objects; and architectural installations and design elements.